Everyone knows that I'm a bad-ass. And a mom. That said, I would like you to say hello to my little friend, Nintendo DS.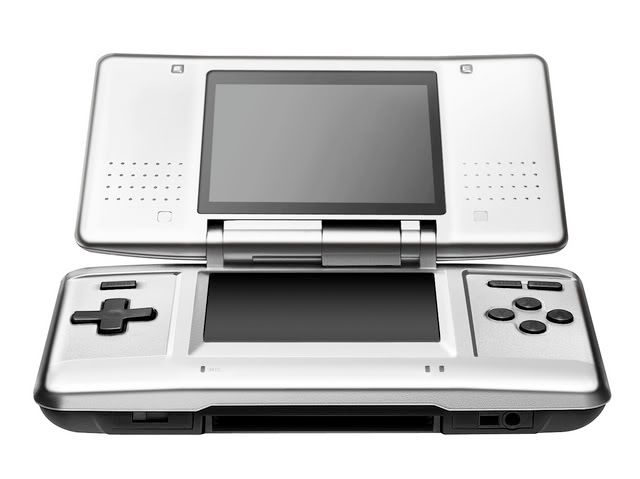 Yes, Nintendo DS is what I like to refer to as "Mommy's Little Helper." Perhaps at this point you are thinking, " Pshaw! Video games rot the brain! Good parenting? I think
not
!" To which I would respond that you are a
fool - a fool I say!
, and attempt to persuade you to listen to what Nintendo DS might have to offer
your
family.
1) Video games may or may not rot the brain - that remains to be seen in the
EW
household. But I will tell you this: Nintendo DS makes my son do his homework. Mostly because I say this, "If you don't do your homework
now
, I will take away your Nintendo DS." Works like a charm every time. *Note: Feel free to apply this formula to bedtime, teeth brushing, you name it. Get creative! Nintendo DS will not fail you.
2) Nintendo DS also functions as a magic wand of sorts. When I wave Nintendo DS suggestively at my son before school, he understands this to mean that if he gets in the car ASAP without whining, crying, or refusing to go to school that day, he will be allowed to play a quick round of
Mario and Sonic at the Olympic Winter Games
en route to school. Voila! Peaceful mornings abound!
3) Nintendo DS allows one to at least
entertain
the thought of embarking on a family vacation (not for the weak of heart, mind you). Five hour plane ride back East? No problemo. Nintendo DS is the solution to your problems. *Note: Okay, I'm not gonna lie. A situation such as this may require the assistance of yet another of Mommy's Little Helpers, and no I don't mean alcohol (this time). I'm referring to the ever-trusty
portable DVD player
.
Until recently, Nintendo DS had been used exclusively as a parenting tactic for my son. But to both our surprise and delight, Carl and I realized just weeks before Christmas that Maggs had recently developed an interest in the Nintendo DS as well. Lo and behold, Santa surprised Maggie with her very own pink "in-tendo DS" (as she calls it) on Christmas morning!
Like mother, like daughter.
Which brings me to my favorite reason of all for being a proponent of the Nintendo DS.
4. While these handheld devices may serve as "little friends" that help my day run smoother by functioning as a means of occasional bribery (let's just call it what it is), they make my kids act like friends to each other, which is perhaps the greatest gift of all.
One of the main reasons Carl and I thought that Maggs would enjoy a Nintendo DS of her own is that the kids can sync their machines so that they can play games together, which they think is the bee's knees. And I'll admit, nothing gives me greater pleasure (other than jarred cheese sauce, Tivo, and 8 hours of uninterrupted sleep) than hearing my kids laughing and having fun together. It's just the best sound in the world. So if you haven't already, I highly recommend that you do yourself a favor and hightail it to your nearest Best Buy or Toys R US or wherever, and purchase a Nintendo DS of your own today. Trust me, you won't regret it.